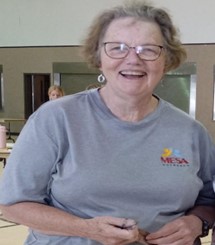 MESA-OUTREACH Board, Staff and the Food Pantry Volunteers are sad to see Janet Newsom announce her retirement from her role as MESA's Food Pantry Manager effective 3.31.23. Since mid-December, Janet has been training her replacement, Jeanie Borawski, as MESA's next Food Pantry Manager.
Janet started serving with Houston Northwest Community Center and the food pantry in February of 2014 and took over as the Food Pantry Manager after Karen Clayton relocated to Georgetown in June of 2014.
After serving 9 full years, Janet is looking forward to having more free time to cheer on and attend her grandchildren's sporting, theatre, and other activities and events. Janet was previously a Board of Director with Houston Northwest Community Center, Inc. and retired from the board to become the Full-Time Manager of MESA's Food Pantry Program overseeing the MESA Food Pantry operations, the Stuff the Bus Community Outreach event each August, the Buddy Backpacks Program to 7 elementary schools in Katy ISD and the Holiday Boxes and gift cards for Share the Table events each November. Janet has been instrumental in growing the MESA Food Pantry from 1 small trailer to the current spaces MESA's Food Pantry operates which is 4X the original space. Janet has been MESA's Food
Pantry Contact and Representative with the 7 partner churches, the Houston Food Bank, many vendors, businesses, civic groups, youth groups and countless volunteers over these past 8+ years. Janet and her husband, Gary have devoted countless hours to shopping, hauling, stocking, planning, advocating and being at the food pantry during the week and at almost every distribution. Throughout this period, their love and devotion for people in need and their caring hearts have been a shining example of Christ's love given freely to all. Janet's kindness and consistent demeanor is ever present regardless of the events or problems that occasionally arise.
MESA's staff, board and volunteers have been blessed to have such a devoted servant to steward the resources of MESA-OUTREACH and show us how to serve the thousands of families and individuals each year. Thank you, Janet, for all you have done for MESA during your tenure here and we hope you'll come back and volunteer with the pantry again in the future.
Please join us on Sunday, April 23, 2023 at Deerfield Clubhouse from 2-4 pm to celebrate Janet's Outstanding Service and Retirement from MESA-OUTREACH. RVSP to lisa@mesa-outreach.org by April 14th if you are planning on joining the party to celebrate Janet.
April Showers bring May Flowers or in this case "Jelly" for MESA's Food Pantry! Please consider honoring Janet and blessing MESA's Food Pantry with your donations of jelly (preferably in a plastic container) the entire month of April. Thank you for your help in honoring Janet Newsom and supporting the mission of MESA-OUTREACH and the MESA Food Pantry!