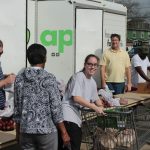 HNwCC FOOD PANTRY NEWS
July Pantry Results
A total of 240 families (1752 people) were served in the pantry on July 11 and July 25. Additionally, 203 families (982 people) were served from the Houston Food Bank produce truck on July 22.
August Pantry Results
A total of 299 families – or 1,588 individuals – were served in the pantry on August 8 and August 22. Additionally, 170 families – or 825 individuals – were served from the Houston Food Bank produce
truck on August 19.
Stuff the Bus
Judging by the smiles of children, parents, teachers and volunteers, our
annual Stuff the Bus held August 8 was both fun and productive. In fact,
151 volunteers worked a total of 462 hours to make the evening a
huge success. During the event:
• Texas Children's Health Plan provided and gave away 250
backpacks with school supplies.
• Preschoolers through fifth-graders received 350 packets of
• school supplies, made possible by collections through our partner churches and other organizations.
• Middle school and high school students received 75 bags of assorted supplies, collected by the Wyndham Hotel and other partners.
• New pairs of shoes were given to 340 youngsters.
• The HNwCC Books to Kids program distributed 661 books.
• The HNwCC Food Pantry served 189 families, including 14 new families, for a total of 1011 people, 5426 pounds of food and 491 snack bags.
• South Texas Dental distributed toothbrushes and educational material to families.
• Middle school students were invited to register for the HNwCC After School Program.
Want to help? We have a spot for YOU!
There is always plenty of work to be done on Pantry Nights, held the second and fourth Tuesdays of each month. Set-up starts at 4:00pm and clients are served 5:00pm to 7:30pm. Our client families are registered, snack bags and crates of food are distributed, and families are offered assistance to load food into their cars. Pantry Nights are scheduled for September 26, October 10, and October 24.
The Houston Food Bank produce truck arrives on the third Saturday of most months and volunteers are always welcome. If you would like to help, please arrive by 8:30am. If you can help earlier, set-up begins at 8:00am. Produce is served from 9:00am to 11:00am. Produce trucks are scheduled for October 21 and November 18.
Helping hands are also needed on the third Sunday of every month, when Saint Elizabeth Ann Seton Catholic Church delivers pantry donations. Starting at 2:00pm, food is sorted, dated and shelved. Deliveries are also scheduled for October 15, November 19 and December 17.
Thanksgiving Event – November 14 (5:00pm-7:30pm)
Mark your calendars for November 13 (6:00pm – 7:30pm) for set up. Volunteers are also needed on November 14 (4:00pm-8:00pm) to distribute coats, jackets, socks, books, wooden toys, food boxes and grocery gift cards.
Donations needed:
Gently-used coats and jackets for older children and adults
New or gently-used books for preschool – 5th grade students
Food items for Thanksgiving boxes
$10 grocery store gift cards
Buddy Backpack volunteers needed
We are beginning our delivery of Buddy Backpacks once again to seven Katy Independent School District elementary schools: Bear Creek, Hutsell, Mayde Creek, Schmalz, Sundown, Wolfe, and Memorial Parkway. Volunteers are needed to deliver backpacks on a weekly basis or to fill in as needed. Most of the backpacks are delivered on Thursday mornings.
Special thanks to….
• Addicks UMC, Bear Creek UMC, Betwixt and Between Class (Bear Creek UMC), BCUMC choir, Copperfield LDS, Covenant Lutheran Church, Lifepath Church, Peace Community Church, St. Aidan's Episcopal Church and St. Elizabeth Ann Seton Catholic Church for their donations.
• Bear Creek UMC, St. Aidan's Episcopal Church, and Covenant Lutheran Church Vacation Bible School programs for their special collections of food and money for HNwCC.
A note of appreciation …to all of our dedicated volunteers! Many were impacted by the severe flooding in the area and HNwCC responded in amazing ways. We will report on the incredible support and collaboration among so many volunteers and organizations in our next newsletter.
HNwCC served meals and delivered supplies during the weeks after the storm. Additional plans are underway to continue to serve those affected by the floods. Such announcements will be forthcoming.
Again, without your assistance, the work of the HNwCC Food Pantry would not be possible. Questions? Please contact Janet Newsom, HNwCC Community Food Pantry Coordinator, at janet.newsom@gmail.com.